I told you it would be here Friday morning. I just didn't specify which one. Okay, I'm gonna get the necessary out of the way quickly, because it's not really what you want to read from me, but you will be happy to see it. A couple of not long agos, I came to the decision that I have some sort of talent for writing. Now, it is certainly not the amout I would like it to be–I still struggle to not idolize Rich Eisen or Rick Reilly every time I read their writing–but I have accepted the fact that it's pretty darn good. Keith Drury once told me he thought I was good enough to be a published writer if I wanted to be. That's a pretty big compliment from a guy who doesn't make empty ones. Which brings me to one of my favorite parables, the parable of the talents.
Now, there is no question that when Jesus told this story in Aramaic, and as it was subsequently written down in Greek, there was not the double entendre that we read today in the English translation. Had Jesus told the story in English, it would have been the parable of the five dollars. But thanks to a coincidence which seems far from coincidental, we get a little bit extra. If you study the meaning of the parable, it's quite obvious that Jesus was talking about a lot more than money, so there's no problem with applying our gifts and abilities here. Which brings me to the point I've been meandering towards.
I'm going to begin writing on a regular basis. And because I feel pretty strongly about this being something God expects of me, I've written a set of rules to govern myself and judge my performance by. I won't be instituting them all ot once, because I think all at once they would make me quit. So for starters, I'll be posting a thousand word entry Every Friday morning (probably late Thursday night for the fellow night owls). In the future, I'll be upping to two or even three articles a week, increasing word counts, and eventually adding some guidelines to the content and so on. But for now, it's anything goes, as long as it makes the word limit. And, to help me get started, I just wrote a whole bunch explaining. Way to go me.
For now, I think it's appropriate to talk about what exactly is going on in my life. A lot has changed in the past month or so, and certainly a lot has changed since the times when I was blogging about hating my job and searching for new ones. I now work at McLean Bible Church, a church of just over 10,000 in the DC Metro area.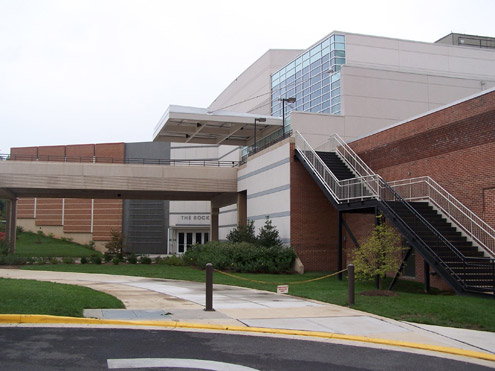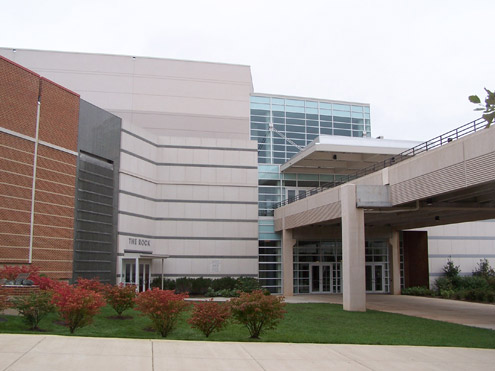 I perform a couple of distinct functions as a member of the tech staff at McLean. As far as production goes, I am one of the lighting designers on staff. My responsibilities include designing and running lighting for events in the Smith Center, our smaller auditorium. I'm training with Robby, who's the #1 LD (lighting designer) in the Smith Center, and I also do some training with Brian, who has experience in Broadway and ballet, and from my understanding has more or less trained every person on lights for the past few years. During the week, I work on the maintenance/install team of technicians. There are countless things which must be done to maintain an operation of this magnitude, and the install team are responsible for getting those things done during the week–everything from equipment repairs to new electrical work to even some construction. We're not responsible for maintaining the building itself, but we do a lot of work with the building in the name of system maintenance or upgrades.
You are probably wanting to know a little more about the church itself, and I shall oblige you. We have three Sunday morning services upstairs, all of which have a blended worship style and live preaching by Lon Solomon, our senior pastor (whom I've never met). There is also a similar Saturday night service. While these blended services happen, we run the Edge, which starts at 10:53 Sunday morning. At the Edge, the music is much more contemporary, like you might find in an IWU chapel. Drums, bass, electric guitars and so on. Likewise, the lighting is very contemporary. We have a handful of intelligent fixtures, do a lot of color and haze, things like that. It's not rock concert (I'm not allowed to have any visible movement of the fixtures during worship), but it's still very cool. We start at 10:53, 5 minutes after church starts upstairs, because the sermon is piped in via video. In fact, it's one of the few places I know where music leaders can go as long as they want, but can't be short, because we record the sermon upstairs and show it on a delay.
On top of regular church, there's also Frontline, which is often referred to as 'a church within a church.' It's specifically targeted at the early 20s to 30s young professional community in DC. If I have my numbers right, they run around 3500 between their two services on Sunday evening. Frontline is big, loud, and has lighting similar to the Edge downstairs. I must admit I've never stayed in the evening to go to Frontline, but it is a ministry to an age group mostly missing from churches, and once I move closer to church, I would very much like to get involved in the community that is Frontline.
For your visual connections, here are some more pictures. Sorry for the color being so terrible in them, but I was taking most of them in the dark with long exposures, so I was just happy they came out in focus and at least good enough to use. I should mention that in the Smith Center (second panorama) the auditorium looks nice and rectangular, but it's not. It's actually shaped like a baseball diamond. From where I'm standing on stage, the two sidewalls move out 90 degrees from each other. So think baseball diamond, with the stage being the infield, the seating being the outfield, and the back wall curved just like the homerun fence.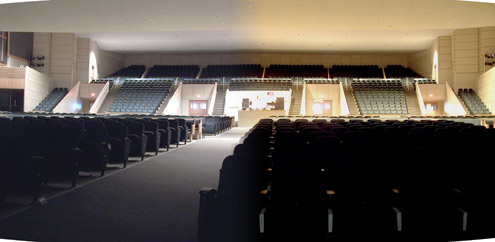 Oh yes, this is what the parking lot looks like: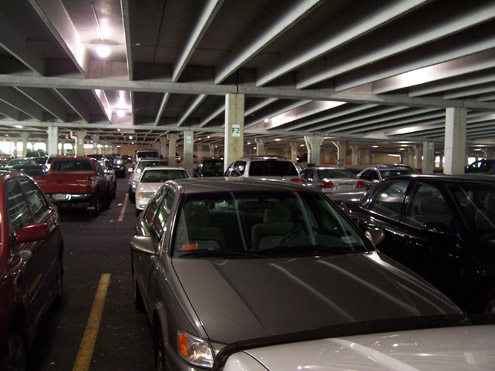 2400 spaces on two levels, and it's so overcrowded we have to run shuttles to offsite parking. And you wonder why the neighbors love us so much…